Venue
The conference will be held at FIT building, Tsinghua University, Beijing, China.
FIT building has high-tech conference facilities, and is close to the main gate of Tsinghua University.
Tsinghua University is the top university in China with 100 years of history and a strong engineering tradition. It owns a beautiful campus which contains imperial architecture & gardens, high-tech buildings/conference facilities.
Beijing is the capital of China for 1000 years with legendary culture. There are many ancient palaces, temples and famous cultural sites.
Accommodation (Beijing Friendship Hotel)
As some of the originally planned hotel can not provide service at that time, we decide to accommodate all the participants in the Beijing Friendship Hotel (alternative website). As we have agreements with the hotel, discounted price could be provided to our PKC07 participants. It is about 15-20 minutes by taxi (costs around 17-22 CNY/2-3 USD) to the conference hall. And shuttle buses will also be available at the conference time.
| Room | Price |
| --- | --- |
| Standard Room of Building 2** | 480 CNY*/day (20 sq.m) |
| Standard Room of Building 4 | 560 CNY/day (20 sq.m) |
| Suit of Building 2 | 750 CNY/day (40 sq.m) |
| Suit of Building 4 | 850 CNY/day (40 sq.m) |
* 1 CNY = 0.128 USD, and currency exchange service will be available at the hotel frontdesk
** For those people who want to economize their cost, a deal has been made with the hotel. You can declare you want to share a room with the other one when you make the reservation. However, if there is no second one want to share a room, you may still need to pay the whole room.
Room Booking: please phone +86 -10 -68498080 with code "PKC 2007" or email rd@bjfriendshiphotel.com with code "PKC 2007" for reservation.
NOTE: For some hotels will be under decoration for Olympic Games 2008, we have removed all of them. And all conference participants will be arranged at Beijing Friendship Hotel.
Accommodation (Other)
You can also take the following two hotels. However, we will NOT provide shuttle buses to these hotels.
Hotel Jade Palace:
| Room | Price |
| --- | --- |
| Standard Twin | 700 CNY/day |
| Deluxe Room | 850 CNY/day |
This rate includes service charges and one breakfast. You can book rooms with John Wei, phone +86 -10 -62628888 and/or fax +86 -10 -62561447. The revervation code is "PKC2007".
Hotel Shangri-la: Please visit the website of the hotel directly.
Airport and Bus
We will offer a free shuttle bus from Beijing airport to the hotels we recommended for all the PKC07 attendees who arrive on Apr 16. The bus will be ready outside the airport (Terminal One) from 10 am to 9 pm and departs with one hour interval. So you had better take the flights that arrive during that period of time. Please note the indicator of PKC 07 in the Arrival Hall at Terminal One (International Arrival) of Beijing Capital International Airport.
Sorry for we met some difficulties in arranging the shuttle buses. It means that you must find your way from the Airport to the University/Hotel by yourself. However, you can print the following instruction tip for help. And if you need further assistance, please contact us. If you need an emergency call, please copy +86-13671327506 (Meihua Huang) to your address book. However, the shuttles between Friendship Hotel and Tsinghua are still available.

The best way to get to the hotel is by taxi. You can find plenty of taxis outside the airport. It costs 10 yuan (1.25 USD) for the first four kilometers and adds up 2 (0.25 USD) yuan per kilometer thereafter. The taxi fare from Capital Airport to your hotels normally costs about 110 CNY (including the Airport Highway fare - 10 CNY). But it may cost more during the rush hours (8:00am-10:00am and 5:00pm-7:00pm). It takes approximately 45 minutes for this trip. Very few taxis driver speak English, so it is strongly recommended to have destinations written out in Chinese. Attached is the name of your hotels in Chinese, please print out the hotel information and show it to the taxi driver.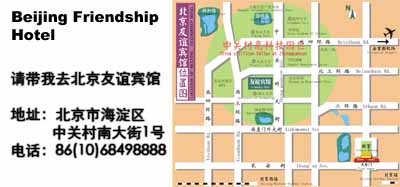 Airport Shuttle bus provides a much cheaper way to get to your destination. Please take the No. 4 Bus (costs 16 CNY = 2 dollors) outside the airport and get off at the Friendship Hotel station of that route. If you do not know how to explain Friendship Hotel, take the following slip.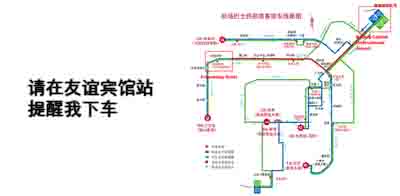 For detailed information, please read: http://www.bcia.com.cn/en/passengers_Land_airport_page.html
Other Suggestions
The Chinese currency is the Renminbi (RMB = CNY), 1 CNY (chinese yuan) = 0.128 USD.
Electricity in China runs on 220V, 50 cycles AC. Be sure to take plugs if you want to use laptops or chargers. However, you can also buy them easily here.
The time in Beijing is GMT+8, please check your watches.
The taxi in Beijing costs 2 CNY per kilometer, and 10.4 CNY for first 4 kilometers.
Beijing has a continental climate, be careful of the sand storms in spring if you will arrive earlier.